Monthly Feature at the Gallery Shop:
Each month the Gallery Shop presents a special show in the Atrium.
Featuring in May, 2017: Welcome Spring with Art and Fine Craft in Wood, Glass and Painting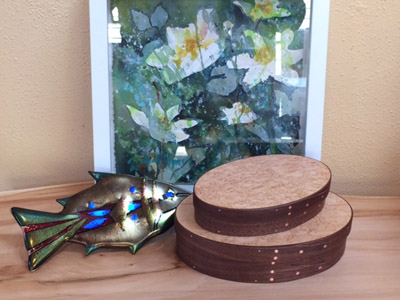 Featured Artists:
Kim Brooks Filkins
Glass
Steve Strouse
Wood
Lena Thynell
Fiber
Kim Filkins Kimberly Brooks Filkins has been working in warm glass for the past 15 years and been a juried artist in the Central Pennsylvania Festival of the Arts for the past 11 years. Each of Kimís pieces are unique. Whether making a functional plate or platter or sculptural art glass, she is limited only by the expanse of her imagination and the size of her kiln. Kim continues to create and evolve as an artist. She looks forward to demonstrating glass cutting, bending stringers and painting with frit on the 5th and 6th at the Gallery Shop and of course discussing her passion, the process of glass fusing. Other date TBA. Steve Strouse Steve's Shaker style boxes are made utilizing locally salvaged hardwoods. The bands for the box sides are soaked in water heated to 180 degrees, then bent around an oval mold and fastened together using small copper tacks. He will be featuring some new items for this show including wooden utensils and live edge tables. These new pieces will be made from a sugar maple tree that was removed from Rhoneymeade in 2016, and American elm salvaged from University Park campus. Steve and Kim will also be showing some collaborative work in wood and fused glass. Lena Thynell Lena Thynell, Signature Member of Pennsylvania Watercolor Society, Philadelphia Watercolor Society and Baltimore Watercolor Society will exhibit her watercolor paintings from Central Pennsylvania. Some work was painted "en plein air,Ē on location, while other paintings were created in her studio.