Monthly Feature at the Gallery Shop:
Each month the Gallery Shop presents a special show in the Atrium.
Featuring in March, 2018: Painting and Pottery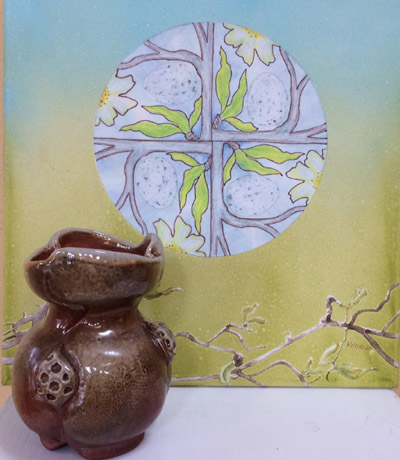 Featured Artists:
Ruth Knowles
Mixed
Lynn Anne Verbeck
Pottery
March 6-31, 2018 Lynn Anne Verbeck Nature is a deep well of inspiration in my work. Repetition, rhythm, and flow translate into a visceral exploration clay. I am fascinated with how nature divides and segments plants, petals, leaves and even underwater creatures around a main axis. Water coursing in an undulating river, sinuously carving the earth, is echoed in a line on my pot. Ruth Knowles This is a retrospective show of symbolic paintings and collages. They combine surrealism, folklore, and motifs which are long-used by the artist. Much of the work attempts to transform facts of nature into symbols for the artist's inner and life experiences.