Gallery Shop Member: Robert Martin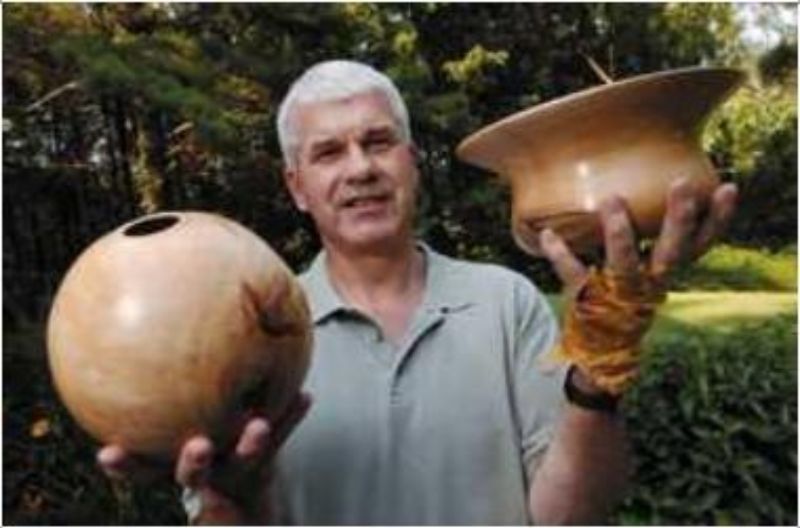 Medium: Wood (Other members in Wood)
Specialty: Turned Wood
About Robert Martin:
Unlike production bowl turners who need to quickly produce uniform bowls, turners of green wood like Bob Martin turn fresh timber straight from the log, without any previous processing. The wood is still living and growing – the turning of "green" wood. The wood retains its moisture and must be turned in quick order before it dries. As the wood dries, it shrinks, deforms, discolors and splits, all of which can happen at any stage in the turning process. These attributes of drying wood are accepted and expected in turning green bowls. It is for this reason that deformations in the initially round bowl and splits are accepted in the final product.
Bob has specialized in turning burl wood locally harvested or purchased from around the country or around the world. Turning burl wood is challenging but is often the most surprising when the closely grained highly figured wood is revealed. Bob is a student of David Ellsworth, known world-wide for his hollow form shapes.
Highly figured wood comes from trees that are under stress – gravity, infection, or injury. Those parts of the tree that contain the most figure are those parts of the tree under the most stress. The following are just some of the terms used to describe figured wood: chatoyance, ray fleck, quartersawn, silver grain, moonshine crotch, swirl crotch, curly, wavy, tiger, fiddleback, ribbon or stripe, roe, dimpling, bird's-eye, blister, quilted, burl, knots, compression, juvenile, tension, sapstains, blue stain, rot, spalting, pith flecks, red-heart, heartwood, splits, bark intrusion, cross/end grain and many more. Turning green wood starts out violently and ends with the gentlest of touch.
Green turned bowls require a month-long closely monitored drying period that results in some unavoidable warped shape and minor cracks that are stabilized. All bowls are sealed with a non-toxic linseed oil varnish that is sanded off and then buffed with a final non-toxic beeswax or carnauba wax finish. The bowls should be handled often and occasionally polished with a clean terry cloth or wool rag to restore the lustre. A moist cloth may be used to remove food residue then buffed with a dry cloth. They may be re-waxed with beeswax or carnauba paste wax or wiped with walnut oil.
Do not hesitate to pick up the bowls in order to see how they feel in your hands. A wooden bowl should be sensual and comforting in your hands. The figure in the wood should always appear different depending on your vantage point. It should be comforting just to look at the bowl.
---